Shirts Every Student Needs for Back to School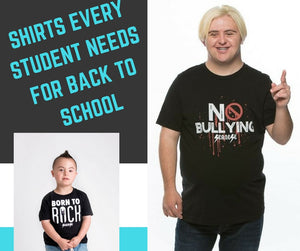 Send your child to school this year wearing positive messages. Sean McElwee, Cast Member of the Emmy Winning TV show, Born This Way on A&E came up with the idea of designing t-shirts as he completed his Keynote speech titled, It Could Happen—That's What Faith Can Do.  As he told his mother, "I need shirts and hats and bags!" She thought it would be two shirts that went along with the theme of his speech, but he just kept designing. Today he has more than 120 designs on his website www.seanese.com .
When Sean designed No Bullying he was adamant that the shirt convey the message to, "Just stop it," After seeing this design, Ashley Silver, Middle School educator said, "This shirt's message is so important because it helps our community talk about the topic of bullying, know that it's not acceptable and ultimately it's message can help to build a safe school environment."
Along with No Bullying —Reminding their classmates that they have a choice and to Pick Kindness is the best choice. Sean said, "This one is for girls because it's not cool to be a mean girl. Just Pick Kindness already, Ok."  Annette Burns, second grade teacher said, "I love the Pick Kindness shirt. As a teacher, the individual flowers represent the uniqueness and beauty in each one of my students. I can create the most beautiful bouquet when I stop to appreciate their beauty."
Sean said this on Born this Way after a job interview.  One of his best selling designs, Denise Bell, a 9th grade science teacher, says, "Everyone can learn! We all learn in our own special way~our own pace! I love being able to find what works for each of my students and showing them science is Easy Peary lemon squeezy!"
Born to be Me was designed along with 26 other "Born To" sayings that Sean thought up in a brain-storming session with his friends.  "The "Born to be Me" shirt celebrates our students' individuality and empowers each of them to be their best self," said Ashley Silver middle school teacher.
Sean has worked with children in his church's Sunday school class for the last 10 years and enjoys it very much. "Kids Rock. Everyone rocks, I made this shirt because all kids should make sure everyone knows they were Born to Rock. Wear it proud little dudes and dudettes."
"These shirts are a fun way to send a positive message that reminds everyone on campus that we all can be a part and rock it! " said Tish Witkin, Art Teacher.
Annette Burns, second grade teacher, commented, "I love Sean's messages and shirts. They embody the kindness, confidence, and love that I strive to build in my classroom  family each year!" 
These are just a few of the over 120 designs that Sean from Born this Way has created. His t-shirt business can be found at www.seanese.com
Visit his website and Post in the comments which design best describes your child. And if you would like to order — there's free shipping when two shirts are ordered. Use Code: BACK2SCHOOL
43 Responses