Entrepreneur On A Mission to Tell the World that Having Down Syndrome Isn't That Bad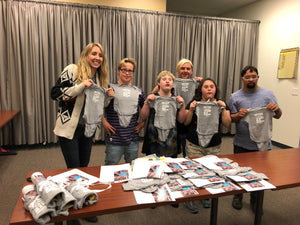 Sean from Born this Way donated 10% of profits in his first year of his T-shirt business seanese.com to 12 different Down syndrome non-profit organizations. But he's changing the focus for his donation program.
Sean has always loved babies, and believes every baby should be celebrated and welcomed into the world. Starting June 1, 2018 the focus of the donation program will change to Welcoming New Babies with Down syndrome. Sean will be donating $1 from every item purchased to providing free baby onesies to Down Syndrome Associations for their New Parent Baskets. Sean said, "I'm on a mission to tell the world that having Down syndrome isn't that bad. Parents shouldn't be sad their baby has Down syndrome, they just didn't meet anyone with it yet. I'm going to let them meet me and see everything I've done so they can help their baby be awesome too." 
Sean has written a letter that will be provided with the onesies addressed to the the new parents who will be receiving the onesies from their local Down syndrome Association.With the purpose to encourage, he tells about his life and his accomplishments. In the letter he says, "Don't give up on your dreams for your baby. Keep going because all your dreams could happen. Your baby is going to Rock just like me."
If sales from Sean's second year of business equal the first year Sean should be able to donate around 350 onesies via Grant applications that will be available in November. Organizations not selected will be able to take advantage of the bulk order with highly discounted pricing.
Applications for Onesie Grants will be available on Sean's website seanese.com in November. The Criteria for selection is still being developed.
Any questions regarding the program please email: seanesemail@gmail.com
29 Responses
Leave a comment