Get Ready To Sell Your Homemade Creations With These Five Expert Strategies by Linda Chase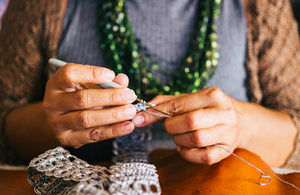 Get Ready To Sell Your Homemade Creations With These Five Expert Strategies
(Photo via Pexels)
Planning on starting a business selling your homemade creations? The decision to launch your own company — full-time or part-time — is exciting. Making money from doing something that you love is the ultimate dream for many. However, individuals are often held back due to feeling overwhelmed with the tasks involved in starting a business. It is also quite common to feel anxious about putting yourself — and your creations — on display for the public.
If you are experiencing similar reservations, not to fear! Get ready to sell your homemade items with these five strategies from Seanese.
Decide what you want to sell
Whether you are using crochet patterns to create tapestry items, or designing beautiful handmade jewelry, you'll need to decide what to sell. Although this sounds obvious, you may be talented at making a number of goods. To avoid spreading yourself too thin, or having too much inventory, think about what you'd like to offer your customers. Narrow down your choices by considering what you most enjoy creating, what has turned out best in the past, and what others have shown the most interest in buying. From there, you can build an inventory of products to sell at local vendor fairs.
Apply for your sales tax permit and business license
While it may sound daunting, applying for all required licenses and permits is not very challenging. In a single afternoon, you can submit applications for your sales tax permit and your business license with little effort. If you'd like step-by-step assistance, there are full service agencies like ZenBusiness you can work with to ensure you are compliant with all local and state regulations. Additionally, many cities, counties, and states offer online resource guides for starting a new business legally.
Build an online presence
Increase your sales and visibility by building a solid online presence. This means having an attractive, user-friendly website, as well as engaging social media posts.
If you aren't tech or social media savvy, there are plenty of affordable ways to build your brand online. The best way to achieve this is to hire a web designer and a social media manager. These professionals can create a website and social posts that best represent your work. Want to up your game even further?
Enlisting the help of a graphic designer can make your business stand out among the rest. They can create custom graphics for both your website and social media pages. Social media graphic design pricing typically runs between $15 and $150 an hour, according to Eksposure, but rates can vary depending on experience and the number of hours worked. You can find a graphic designer, web designer, and social media manager on today's top freelancer marketplaces.
Submit applications for local vendor fairs/festivals/etc.
Once you've taken care of all the essentials, it is finally time to schedule dates at local vendor fairs. This can include craft expos, farmers markets, and one-time weekend festivals. Not sure where to start looking? Check the "Events" section on Facebook to browse local events through the end of the year. This will help you quickly and easily find relevant happenings in your area.
Some important things to note: If you plan to sell in a city other than where you hold your business license, you will more than likely have to apply for a business license in that city as well. Also, some events and festivals require that you have vendor insurance.
Design your booth setup
And finally, Made Urban suggests creating a functional and appealing booth setup. When designing your booth, be sure to take into account all event specifications, as well as all possible weather conditions. Preparing for factors such as wind, rain, and excess heat will keep you comfortable, and your products safe.
As you go through each of these steps, remind yourself to enjoy the process. Feel proud for making it as far as you have, and stop to celebrate your achievements.
Looking for a T-shirt with a unique, positive message? Seanese is your go-to source, from onesies to adult sizes. Reach out today!
60 Responses