Seanese Supports RespectAbility in March: FIGHTING STIGMAS, ADVANCING OPPORTUNITIES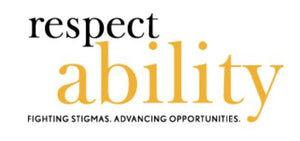 Organizations like RespectAbility make a huge difference for people with disabilities. Sean has volunteered and worked with this organization on numerous occasions.
RespectAbility is a nonprofit, nonpartisan organization that understands we are a stronger community when we live up to our values – when we are welcoming, diverse, moral and respect one another.
RespectAbilty works with entertainment, policy makers, educators, self-advocates, nonprofits, employers, faith-based organizations, philanthropists, journalists and online media to fight stigmas and advance opportunities for people with disabilities.
Led by people with disabilities and those who love them, we know that people with disabilities and their families have the same hopes and dreams as everyone else, even if they face different challenges.
RespectAbility does not lobby; they educate. Providing free tools and factual resources to inform the public so people with disabilities can achieve the education, training, jobs, security and good health that everyone needs and deserves.
Seanese is proud to support RespectAbility's Mission by donating 10% of profits for the month of March.
For more information on RespectAbility visit: https://www.respectability.org/
2 Responses
Leave a comment