February Donations Help Babies with Down Syndrome Grow Up in Loving Families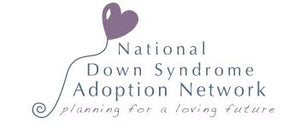 February purchases from Seanese.com will benefit The National Down Syndrome Adoption Network. Show some love and order your World Down Syndrome Day Down syndrome Awareness t-shirts in February!
The National Down Syndrome Adoption Network was formed in 1982 under the umbrella of the Down Syndrome Association of Greater Cincinnati. The mission of the NDSAN is to ensure that every child born with Down syndrome has the opportunity to grow up in a loving family. A priority of the NDSAN is for all expectant and birth families to receive updated and correct information on Down syndrome, and counseling on parenting a child with Down syndrome. So many times, that "loving family" ends up being the expectant or birth parent who contacted the NDSAN and got updated information and counseling!
The NDSAN helps find families for about 40 children within the United States every year. They have about 50 families on their registry; 50 families who are home study-ready, and who want to adopt a child with Down syndrome. And they are always needing families who want to adopt, since families are consistently cycling off the registry after an adoption placement.
The NDSAN has been recognized by the US Department of Health & Human Services and the North American Council on Adoptable Children for helping to find families for children with Down syndrome. They were also honored with the President's Award by the National Down Syndrome Congress in 2017.
For more information, visit the NDSAN at www.ndsan.org, or www.facebook.com/dsadoption
10 Responses
Leave a comment