Best Buddies Rings in the New Year Receiving 10% of Profit Donations from Seanese.com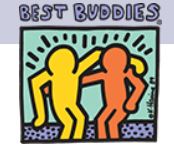 When Sean McElwee decided he wanted to start his own T-shirt company he also decided he wanted to give back to the non-profit organizations that have supported him.
But there were 12 organizations, so he decided to put their names in a hat, and select one for each month of the year.
In the first 8 months of business he has been able to donate $1,050 to 7 organizations.
January's donations will be received by Best Buddies. And it's only fitting that his new shirt being launched for Valentine's Day says, "Love Makes the Impossible Possible."  
When Sean was a Jr in high school the Best Buddies Program started a chapter at his school.  The friendships that were forged and the fun activities he enjoyed have given him some great memories.
Now involved at the University of California, Irvine campus' Best Buddies Program he has a blast at their events each month.
Best Buddies is the world's largest organization dedicated to ending the social, physical and economic isolation of the 200 million people with intellectual and developmental disabilities (IDD). Their programs empower the special abilities of people with IDD by helping them form meaningful friendships with their peers, secure successful jobs, live independently, improve public speaking, self-advocacy and communication skills, and feel valued by society.
Best Buddies and Born this Way forged a partnership allowing the viewers who want to get involved in the lives of people with Intellectual Disabilities a way to connect.
To learn more about Best Buddies or to volunteer go to https://www.bestbuddies.org
14 Responses