3 Must-Haves to Succeed in Business When You Have a Disability By Linda Chase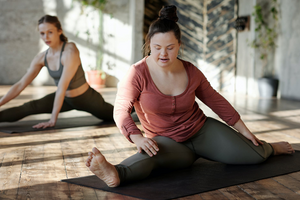 A disability shouldn't keep you from pursuing your business dreams! In fact, one look at Seanese's bustling online business and you'll quickly see that young adults who are living with Down syndrome and other disabilities can flourish and thrive in the business world. All you need is a little support and few business hacks to help you get started. So let's dive in!
Accessible Education Options
Earning a degree can give you an edge when it comes to being in business. If your needs or current lifestyle make it difficult to take classes on campus, you could always look into more accessible options like online IT degrees. With a degree in IT, you will learn about information technology, cybersecurity, and data analytics — all of which can take you far in your career.
Don't want to get into IT and tech? You can explore other options. For instance, if you want to start your own business, an accounting or communications degree can help. You may even be surprised to learn that having a philosophy degree can make you a better business owner!
Worried about being in college with a disability? You really shouldn't be! Just take a look at the many who are pursuing their education dreams and paving the way to success. Believe in yourself and believe in your abilities, instead of focusing on disabilities.
A Little Business Experience
You're on your way to earning a degree. So what comes next? At some point along the way, you will want to start gaining some real-world experience. If you've never had a job before, beginning with a part-time position is a good idea. There are plenty of companies that love to employ folks with Down syndrome, including Walgreens and several coffee shops.
Building solid relationships and providing customer service is one of the most important parts of being successful in business. This is why working in retail or a cafe could be good for your career. You can also look for internships that will provide you with other skills and perks. 
You could also start your own ecommerce shop, like Seanese! Sean from Born This Way even donates a portion of profits to help parents with new babies who are born with the condition. By the way, donating to causes is good for your business and for others!
Some Serious Self-Confidence
Making a change or taking the big first step when it comes to your career can be pretty scary. You may feel a little nervous and anxious at first, but know that these feelings are completely normal. What's important is that you don't allow fear to get in the way of you going after your dreams and goals. Writing your goals and having a plan can definitely help.
Think about what you like about your career and life right now. What are you hoping to change by starting a business or getting a new job in business? Also, think about what you like to do, whether it's helping others or sharing one of your passions. If you love doing yoga, for example, you could always start a business teaching accessible yoga to others!
Still feeling unsure? It's okay! Self-esteem and confidence are things that most people struggle with at some point in their lives. Some steps you can take to build yours include taking care of yourself, not comparing yourself to other people, and most importantly, giving yourself regular pep talks. Look into the mirror each and every day and tell yourself, "I can do this!" — because you really can if you believe in yourself. 
Turn "I can't" into a big "Yes, I can," and take the first step towards an exciting and rewarding new career in business! It's a good field for young folks with disabilities to get into, so get out there and start making your dreams come true. 
Raise some brows and support a cause when you purchase funny, heartwarming, and positive t-shirts from Seanese! Check out the shop today.
Photo Credit: Pexels
61 Responses
Leave a comment