Time for Down Syndrome Organizations to Apply for Donated Baby Onesies!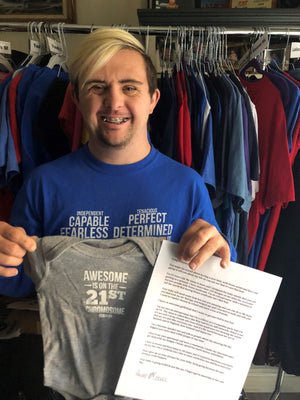 Sean donates $1 from every item he sells to fund his donation program of providing Baby Onesies to Down Syndrome Organizations for their New Parent Gifts. This year since the Pandemic shut down his live in-person sales at events and Back to School was basically canceled his sales have been significantly lower than previous years. He has added a 'Donate a Onesie' item to his website and people have purchased onesies to donate! 
Included with the onesies that say 'Awesome is on the 21st Chromosome" is a Letter Sean has written to encourage the new parents. In the letter he tells about his accomplishments and his dreams that have come true. He also says, "Don't give up on your dreams for your baby. Keep going because all your dreams could happen. Your baby is going to Rock just like me." Helping new parents go through the grief process quickly is so important for the new baby's future.
The last two years Sean received applications for 2,049 onesies and was able to grant 625 onesies to 25 Down syndrome organizations and an additional 95 were provided at  his Cost.  He is banking on his sales this month and the generosity of his customers to help him be able to provide at least as many Onesies as last year. He always does a plea to a Celebrity too--so please apply! You never know -- It Could Happen that a celeb picks up the cost of all the onesies he can't afford to donate!

By Sharing the Seanese.com website with your friends and family and network will on social media  counts towards the points for your application and hopefully his sales in November and December will be significant enough for him to donate at least as many onesies as he did last year.

We will be extending the offer to purchase the onesies at the bulk cost of $5.60 to $6.90 each (depends on the final quantity ordered) to any organization that is not selected in the application process.
Applications are due back by December 5th and winners will be notified by January 5th. Onesies will ship in the beginning of February 2021.

Download the application click here
Email application to seanesemail@gmail.com after filling it out

To Share Sean's website use this link: www.seanese.com
Sean's Facebook Fan page is Sean from Born This Way if you would like to tag him on any posts.
100 Responses
Leave a comment