Seanese Baby Onesie Donation Project Now Accepting Applications! (ORGANIZATIONS APPLY HERE)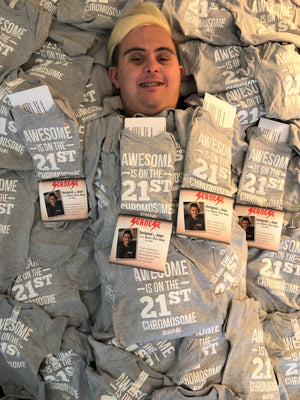 download the application here  --it's an Excel file--after you fill it out email it to seanesemail@gmail.com more details below:
Sean donates $1 from every item he sells to fund his donation program of providing Baby Onesies to Down Syndrome Organizations for their New Parent Gifts.  He received some photos from parents who received those gifts this year and was so thrilled every time he got one. Here's a few of the adorable photos!
Included with the onesies that say 'Awesome is on the 21st Chromosome" is a Letter Sean has written to encourage the new parents. In the letter he tells about his accomplishments and his dreams that have come true. He also says, "Don't give up on your dreams for your baby. Keep going because all your dreams could happen. Your baby is going to Rock just like me." Helping new parents go through the grief process quickly is so important for the new baby's future.
Last year Sean received applications for 1,585 onesies and was able to grant 365 onesies to 10 Down syndrome organizations. Unfortunately since Born this Way has not been on TV this year his sales are way down. Currently he only has sold enough shirts to donate 215 onesies.
in December Born this Way has 6 internet shows coming to A&E's website and a Christmas Special on December 18th. Hopefully this will boost sales enough so Sean can donate more onesies. 
Also, by Sharing the Seanese.com website on social media with your friends and family will help improve his sales in November and December for him to donate at least as many as he did last year.
Applications are due back by November 22nd and winners will be notified by January 5th. Onesies will ship in the beginning of February 2020.
45 Responses
Leave a comment